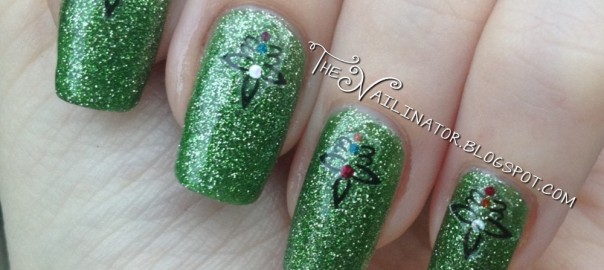 Hello beauties!
I purchased this polish myself.
Today I've got something kind of simple but very sparkly and pretty for you.
This is 3 coats of Peridot from the Oh My Golly Crystal Sand collection by Klik. I actually put in on a couple of days ago and couldn't decide on whether to stamp something or try out some nail stickers I've had for a while. After two days of debating, the stickers won. The stickers are by Wish and can be purchased at Watsons for 15 pesos. I think they turned out cute and I didn't have nearly the trouble with these stickers as I did the
others I tried by Wish
. I used Oh My Golly Colorless to top coat over the sticker.I want you to take note of the lack of tip wear on Peridot. After 48 hours of cleaning house and playing with kids I always find that pretty impressive. Especially considering there is no topcoat.
I cannot say enough about how much I love these Crystal Sand polishes! They dry so fast and stand well with or without topcoat. I'm hooked! Many of you have entered already but for all my new friends that don't know yet, I'd like to mention that you could win this polish and the other 6 in the collection by entering my international giveaway which ends in approximately 39 hours! So what are you waiting for?
I've included shots of this mani in different light so you can see the details of the stickers and the gorgeous glittery goodness of Peridot with and without the stickers. I would not have thought that I would love this green so much but I do. Enjoy and let me know what you think.
Outdoor in the shade
Indoor indirect light
Direct sunlight
Direct sunlight again
Outdoor in the shade