Hello lovely people!
New brand alert! TenTen Nail Color by Nippon Cosmetics Philippines has been popping up everywhere. They have a lovely selection of polishes. There are bold and neutral shades, shimmers, cremes and glitter toppers. They have something to fit everyone's taste. These polishes are also 5-free, which means they are extra safe for a pregnant lady like me! They are quick drying and long-lasting which is always a plus with any busy lady.
TenTen Nail Color polishes are available for purchase individually (100-130 pesos per bottle) and are sold in three-piece collections (275 per collection). I was checking out the collections available on their website and I notice that most sets include a bold pop of color, a metallic, and a neutral (or more "work safe") shade. Sometimes the bold color is also the metallic shade and sometimes the neutral shade is metallic. If you purchase only one collection, you have some options to suit different occasions. They have several collections to choose from including a couple of three-piece neutral sets.
I was kindly sent the Roman Holiday Collection to swatch and that is what I will be sharing today.
The Roman Holiday Collection

S57 – First up is this bold, wine-colored creme. Two pigmented coats provide full coverage. It was a bit hard for me to photograph, but the color is really deep and pretty. I love dark colors so this one ended up being my favorite of the bunch.
T75 – Next in the collection is a silver metallic polish that has great coverage in two coats as well. As you can see, no streaking here! This is a great silver polish and gives great shine!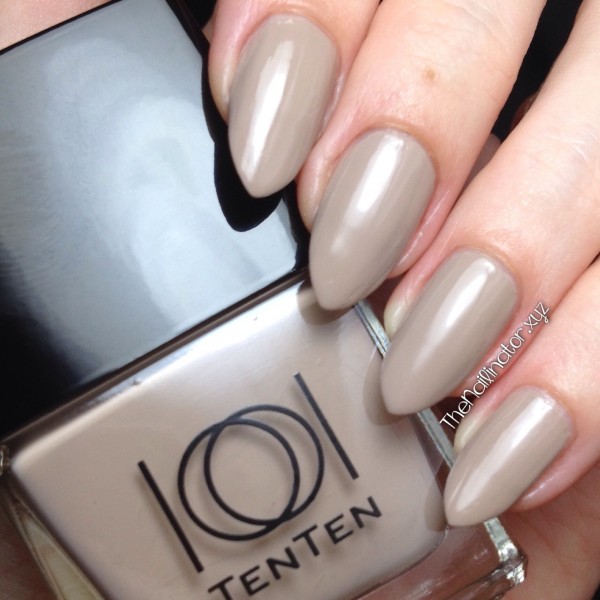 S49 – This is a sandy nude creme that took two careful coats for full coverage. This one is definitely work appropriate and I can see it being a great base for some floral nail art or for another Zentangle job!
---
All of these polishes applied easily and were also easy to remove. I enjoyed wearing them and would definitely be interested to pick up more of them in the near future (Hello, Bangkok Nights Collection!).
You can purchase this collection or any of their products by visiting their website or one of their stores. You can also follow Nippon Esthetic on Facebook to keep up with their new products like the matte polishes they just released.
Have you tried TenTen polishes yet? Do you have a favorite? Let me know in the comments.
I hope you have a great day! Don't forget to smile today!
Hugs,
Rach