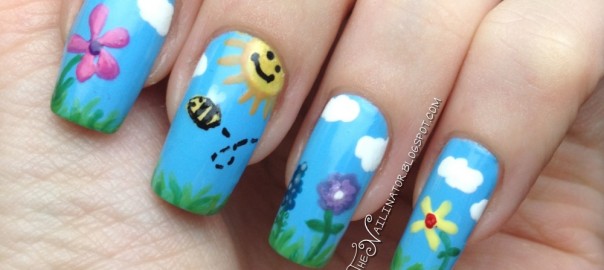 Hi gals!
Let me start by pointing out that, although this would be more appropriate as a spring time design, we don't have four seasons over here in the Philippines. All we have are wet and dry versions of hot, very hot and ridiculously hot times of the year. :/ So my"Sun" inspired mani is all about the sun and pretty flowers in bloom. I've even got a cute little bee with his tiny wings flying around doin' his thing. Aren't these adorable? I am quite pleased with them. My almost 2 year old girl thought they were cute too.
I used a whole bunch of different polishes to do this and don't particularly want to get my bum off the couch to list them all (it's been a long day). Sorry. I guess it's one of those days.
On a more exciting note, I've got a great week lined up for you gals. I'm going to be guest posting on not just one but TWO great blogs this week and hopefully I will have my very first guest poster come visit to wow us with her amazing skills! I am excited so stay tuned!
Just in case you missed it, I joined instagram a couple of weeks back and I would love to connect with you there especially if you want to see more pictures than what I share here or on FB. 🙂 Find me @thenailinator (I've got a link in the side bar) and let me know you follow my blog too. 🙂
I hope you are having a fantabulous weekend. Talk to you soon!