Girlstuff Solique Gel Collection Swatches and Review
Hello girls!
Are you getting excited about the holidays? I know I am. I'm about to switch to cookie baking mode!
Boy, oh, boy am I excited to share this post with you today!
A couple months ago, Girlstuff released their new Solique line of Gel polishes. These "gel" polishes are meant to be used as a system with the nail color and top coat and they promise the durability and shine of gel polishes without the need of a UV lamp to dry them or special remover or soaking to take it off.  They are supposed to dry within minutes and give you high shine with extended wear. It all sounds too good to be true!
I don't normally wear polishes for a whole week, but the timing of me receiving these pretties and testing them out was just right as we were neck deep in a MAJOR renovation of our office building. Since October, I have either been helping the hubs with the renovation or working extra hard at keeping things going smoothly at home so that he could focus on the renovation. I put these polishes through some serious testing! Let's check out the color options before I get into the wordy bit.
Solique Gel Polish By Girlstuff Swatches
Manila Girl – is a fabulous red with a fabulous name (For those of you outside the Philippines, Manila is the country's capital city.). This crelly is a two-coater and very squishy looking. I love a good red, and this did not disappoint! Easy cleanup and no staining! Yay!
Such A Fantasy – is a girly, pink cream that needs two coats. I guess it is the crowd-pleaser of the lot because I got heaps of compliments while wearing this.
Love Me Like You Do – is very chic, light-gray creme that I think is a timeless, classy shade.  With a little care this is a two-coater. I say that because I was watching a movie while applying this one, and I messed up a couple of nails and had to put a third coat on. It still dried super fast!
Hush – is a lovely, almost white creme that has just a whisper of pink to it. It's perfect for people like me who like the crispness of white nails but don't like it to look like I used correction fluid on my nail. Hush is a two-coater, which is hard to find with a polish of a delicate tint like this.
Midnight Dreams– is a dark blue crelly loaded with tiny, shimmery flecks. It has a purple luster that can be seen in certain lighting, but I wasn't able to capture that, as you can see. It is a two-coater and the only dark shade of the collection.
Baby Blues – is a pastel blue creme that stands out without being too in-your-face. With care, you can get away with two coats of this baby.
The Review
Wow! Wow! Wow! You guys, this system is AMAZING! First, let me remind you that these polishes are meant to be worn with the special Solique topcoat. Also, I have never used or worn regular gel polish myself, but I have heard the pros and cons of them.  I have also removed gel polish for a friend and know the difficulties of gel removal.
Application – The formula on these is a bit thicker than most regular polishes so you may need to take more time and care when applying. I found that using more product on the brush helps as well. Cleanup around the cuticles was no problem.
Drying time – This is a quick drying system, and including the three coats on a couple of nails that I messed up a bit, my nails were dry in a flash. No need for a UV lamp like regular gel polishes.
Removal – When I removed my friend's gel manicure, it took ages. Lots of soaking (with pure acetone…boo!), waiting, and rubbing on the nail to get it all off. With Solique Gel, I used my favorite non-acetone polish remover on a cotton ball and it came right off.
Wear time – Now to the part that I'm sure you are really curious about. How did Solique Gel Polish hold up over the test of time? Did I get the extended wear promised? Let me answer that by showing you a picture of my extended wear test results of Hush (with a bit of glitter). Keep in mind that this manicure endured a certain number of days of taping, floating, and sanding drywall, and sanding and staining wood panels – in addition to all my regular chores and work at home.
How many days old would you guess this manicure is?
Five days old? Nope!
Seven days old? Not even close!
Ten days? Keep guessing!
This is actually FOURTEEN DAYS of wear and tear! Have your nails ever looked like this after wearing the same polish for 14 days? I know mine haven't!
You can see a bit of wear on the tips but it's still totally passable for a nice manicure. While I have heard of the amazing strength and wear of gel polishes, I never expected these results from a polish that applies, dries, and removes like a regular polish. The biggest issue I have after 14 days is the gap from the new growth of the nail since I applied the polish
Still not convinced? How about this 10-day wear shot of Love Me Like You Do (with some subtle holo stamping).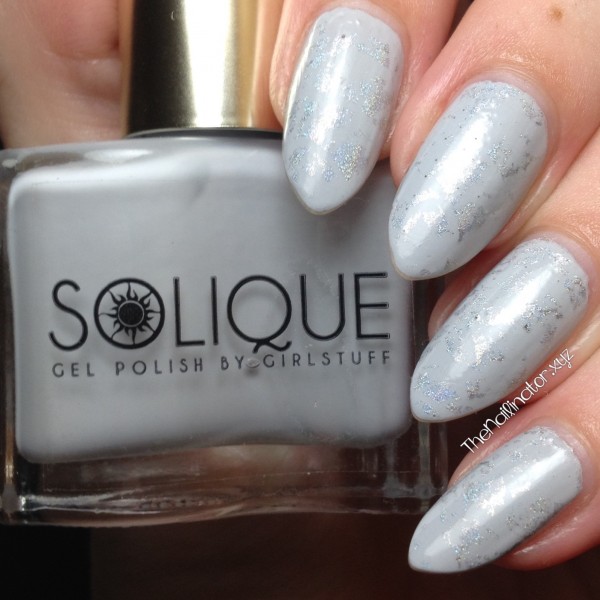 Oh yeah! If you want to cut down on your salon visits or how often you do your nails at home, then you will love this new product.
The downside – Really, the only downside to this system is that the color selection is limited. But they just released a new shade so they are already adding to the line. Yay!
 Final thoughts
These would make a great gift for yourself or for a special someone in your life. Keep in mind that the Solique line is meant to be used as a two-part system. These amazing results cannot be guaranteed if you do not use the Solique topcoat.
Solique polishes cost 180Php per bottle and the Solique topcoat is 200Php per bottle. They can be purchased at any Girlstuff kiosk or directly from Girlstuff online. Their customer service is fantastic, so do not hesitate to contact them for any inquiries or shipping. You can also check out their website and contact them about having polishes shipped to you. Check them out on Facebook and follow them on Instagram @girlstufforever to keep up with their news and promotions.
I hope you found this review helpful. I love sharing great products with you and I try my best to be thorough and to include information that I personally find helpful when choosing products. Do let me know in the comments if you have any questions.
Enjoy the holiday rush but don't forget to stop and smell the roses (or in my case stop and hug the kiddos). Have a lovely day and keep smiling!
Hugs,
Rach