The Nailinator joins ColorMeSoCrazy's Make Me Pretty Giveaway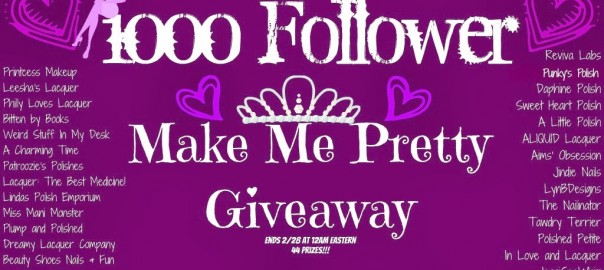 Hi gals!
Just a quick post for you today to let you know about this huge "ColorMeSoCrazy" giveaway. I'm contributing a prize too. You get an easy entry if you like my Facebook page so go to the end of this post for the rafflecopters to try your luck! There are lots of great goodies up for grabs. There are prizes are for US and for International residents too, so everyone has a chance. Yay! You have until February 28th to enter. I wish you the best of luck! Prize list and rafflecopter widgets are after the jump.
Spread some joy and have a great day!
Rach
————————————————————————————————
Ok ladies!! Here we goooooo. As you all know, I hit 1000 blog followers lately and I am celebrating!! I have 38 wonderful ladies working with me to give you some of the HOTTEST prizes out there!! Ok, so without further ado, your sponsors AND PRIZES!! See the Terms in each Rafflecopter for all the rules!!
Be sure to fill out the appropriate rafflecopter. The first one is for US only. The second is for EVERYONE!! So, if you are in the US you may fill out both!!
Don't forget to check the terms and conditions in each rafflecopter and good luck!!!
US

,

INTERNATIONAL

AND

ALL