Giveaway time!!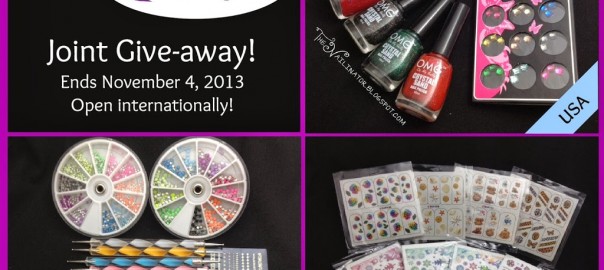 Hey gals! I've got a treat for you today.
You know all those hints I've been dropping the past month or so about a giveaway in the works? Well today is the day it goes live and I hope you will ALL enter!!!
Blooming Nail Cebu
 has graciously provided some goodies for a giveaway and I've provided some as well, so together we have some great prizes up for grabs I hope you like them!
Before I give you more details about the prizes let me tell you about the rafflecopter I've got set up. You will have to enter your location before you get to the extra entries options because I have to know where you live to know which prize you qualify for. Then you can earn entries for liking
Blooming Nail Cebu's FB page
and by following me and my blog in different ways. When I select the winners, the first entry that comes up from each group (US, Philippines, and International) will be the winner. My parental units will be heading to Texas atthevery beginning of November and have offered to mail the USwinnertheir packet from there so I can afford to send it. 😉 The other prizes will be shipped from Cebu, Philippines.Good luck to you all!
a Rafflecopter giveaway
…………………………………………………………………………………………………………………………..
The prizes:
One winner in the US will receive 6 Oh My Golly polishes from their Crystal Sand collection (Opal, Peridot, Indian Red, Hematite, Emerald and Citrine) which are some of my all time favorites, a 12-color pack of square gems, 2 sheets of nail art stickers, 2 sheets of water decals, one roll of nail art striping tape, and one sheet of the same nail foil I used in
my last mani
.
We also have a prize that will go to one lucky winner from the Philippines! This prize pack includes two wheels of neon studs (two different sizes), a 5-pc. dotting tool set, 4 sheets of nail art stickers, one roll of nail art striping tape, one tub of flocking powder, and one sheet of the same nail foil I used in
my last mani
.
One international winner will receive 10 sheets of some awesome water decals. For the record, this prize only contains these sheets as mailing bulky items is cost prohibitive. But, I think you international folks will enjoy these a lot.