Captain America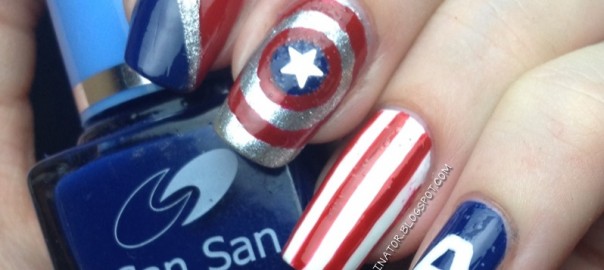 Some products used were provided to me for honest review.
All opinions are my own.
Before I get to the nails I'd like to let you know that I joined Instagram a couple of weeks ago and, while I am still getting the hang of hash tagging and all that crazy stuff, I have been posting some pictures there. I will post my nail art and some other pictures that won't be on my blog so if you are on Instagram, I'd love to hear from you. Look for @thenailinator
These are my entry for the Comic Book or Character theme for the Rather Awesome 31 Day Challenge Giveaway.
When I was talking to Mr. Nailinator about what I could possibly do for this theme I had no idea what to do. I'm a bookie for sure but not comic books. Luckily Marvel has several movies out my hubby reminded me that the characters are from comic books. So my son said I should do Captain America nails. And this is what I came up with. I actually wore these a few weeks ago for July 4th. 😉 See how I thought ahead?
As I hope you can see, the pinky is supposed to be the A on his head piece, the ring finger is the red and white on the midsection of his costume and the middle finger is the round shield. The pointer is just going along with the color motif and the thumb has 3 stars like the top of the old school comic book shield. 🙂
Colors used for this look:
San San Blue Sapphire
Oh My golly Salsa (red)
Jocarste White
Jocarste Silver 26
Klik Super Star (glitter topcoat and stars)