Kleancolor Chunky Holo Purple over San San Red Gleam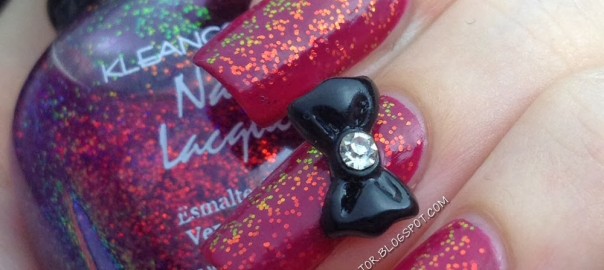 Hello all!
I'm sorry I haven't posted much this week. Everyone has been extremely busy around these here parts and that leaves little time for my nails. It's a sad story I know. But it's all for a good cause and I did actually get to do my nails a couple of times. I went with simple but pretty looks. I just haven't had the time to sit down and get them up on the blog. This next week promises to be a bit less hectic so hopefully I'll be back to my old routine. (Fingers and toes crossed!)
I started off with two coats of San San Red Gleam. I don't really get why they named it Red Gleam since it really looks just like the shade in the picture. More like Dark Pink Gleam. Ha! Anyway, I was kind of dissapointed in the formula for Red Gleam . It applied easily enough and I had high hopes for it's opacity. But even with this being a dark color that passed the "brush test", I still had a few thin spots after the second coat. It's only really noticeable in certain lighting. I went ahead and stuck with two coats as I topped it off with two coats of Kleancolor Chunky Holo Purple which was easy as pie to apply. Come to think of it, I have made my fair share of pies and it was actually MUCH easier than pie. Just sayin'!
As you can see, for a finishing touch I added a bow to the accent nail. I'm still not too crazy about 3D nail art so the bow will have to grow on me a bit. But my 4 year old loves it. According to him, "The one without the bow is not good at all. But the bow is great!" So we're going to go with the recommendation of my 4 year old… this time.
What do you think? This was so easy to photograph and It's very pretty and shiny.
By the way, my joint giveaway with Blooming Nail Cebu ends in 12 hours. If you haven't joined yet, you really need to. Just look at all these goodies up for grabs. And it's open internationally! Good luck! I can't wait to see who wins!