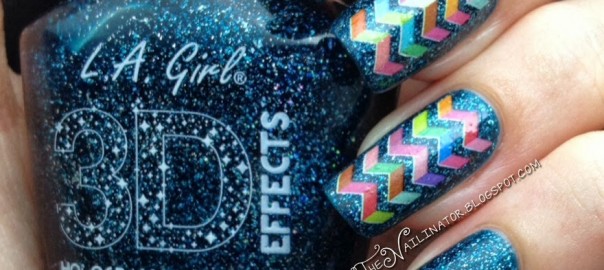 Hey girls!
I hope everyone is having a great start to the week. I have been having so much fun with my new polishes that my sister (The Shutterbug) brought back with her from Texas.
I've got a cool look for you today that was so easy to do. I started with 3 thin coats of L. A. Girl Teal Dimension. I've added some water decals I purchased from Blooming Nail Cebu. This whole sheet (Hot-010) cost me 15 pesos (about 35 cents USD) and has a variety of decals on it to choose from! They have some great stuff available for very affordable prices and they ship internationally for the best price available.
I've said it before and I'll say it again… I LOVE these L.A. Girl polishes. The base for their 3D Effects line is a tinted jelly but when you remove the polish there is absolutely no glitter nightmare left behind like a typical glitter polish. So I'm not sure exactly what makes up the holo glittery magic they have got going on. But I appreciate not having a difficult time cleaning up after wearing it. In addition to that, it is so easy to apply and is extremely forgiving. It dries quick too! Win win win! If live outside of the US, you can order these from Cherry Culture as they ship internationally (Philippines included! Whoop!).
I hope you have a great week!