Oh My Golly! It's my birthday GIVEAWAY!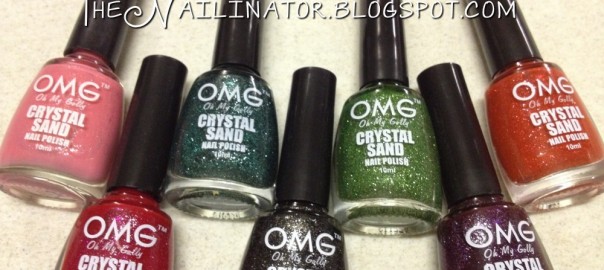 Since my birthday was this month I decided to do a little giveaway!
I had planned on setting this up earlier this month but I had some difficulty figuring out shipping options. The extremely sweet Meann of MyOnline Shop offered to help me out so I will be able to have this open internationally after all! Yay! Thanks a million Meann. Y'all should check out her shop. She has some great polishes and stamping/nail art stuff and she is super nice!
Anyway, on to the giveaway! Here's what is up for grabs. The OMG Crystal Sand collection is made locally here in the Philippines. They are some of my personal favorites in my stash and I figured you all might enjoy them too! See them in action here, here, here and here.
Left to Right: Quartz, Indian Red, Emerald, Hematite, Peridot, Opal and Citrine
I'd like to take a moment to say a big "Thank you!" to all of you who follow me, like and comment on my blog, Bloglovin' and Facebook page. I am so excited to see more and more people interested in my nails. 🙂 I appreciate each and every one of you! Good luck to you all!
Take note:
Must be 18 or older (or have parental consent) to enter.
These are brand new bottles of polish up for grabs.
Although this is open internationally, the winner is responsible for any import taxes to be paid on their end.
Giveaway closes on 6/8/13 at 12am.
I will check and remove any false entries. Please be real.
If prize is lost or damaged in the mail, I will not be able to provide a replacement.